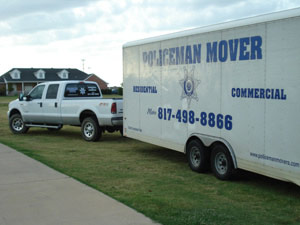 Whether your new address is just around the corner or across the state, DallasResidentialMovers.com can be trusted to move you and your belongings with the consideration as if it were our own possessions. Locally owned by North Texas Police Officers Policemanmovers.com, we are fully licensed and in compliance with all regulations as set forth by the Texas Department of Transportation.

We provide moving and packing service to both residential and commercial clients throughout the state of Texas. We are proud to have earned the trust of thousands of happy Dallas residents for over 10 years.

The Dallas Residential Movers team at Policemanmovers.com is staffed by reliable, skillfully trained moving professionals to ensure that your move is an easy one. Whether you are needing a residential move in Dallas, Texas, moving from one apartment in Dallas to another, or have an office move or commercial moving project, DallasResidentialMovers.com moving company will provide you with an affordable and professional move. When trusting the men in blue to your move, you can always rely on us for professionalism, integrity and reliability at a price competitive to the moving industry.

Why Consider Moving to Dallas, Texas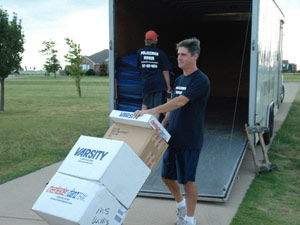 Dallas attractions, arts and entertainment and a variety of other features of this historic city make it a wonderful place to lay down some roots. Dallas, with a population of 1.2 million is the third-largest city in Texas and the eighth-largest in the United States. Founded in 1841 and formally incorporated as a city in February, 1856, the city's economy is primarily based on banking, commerce, telecommunications, computer technology, energy, and transportation.
Looking to Relocate? Here are some top reasons to move to Dallas.
Weather – Yes, Dallas is hot in the summer with temps often above 100 in July and August, but for the winters, you can't beat an average high temperature in the 60's.
Culture and Fun – When checking out Dallas attractions, you can't miss the arts scene. For year round fun events that encompass all that arts and entertainment have to offer, Dallas has nearly every kind of entertainment you can imagine.
Nightlife – If an active entertainment scene is what you are after in the city of Dallas, you won't be disappointed.
Low cost of living - Dallas' costs of living and doing business set it ahead of other leading U.S. cities. Dallas' overall cost of living is 92% of the national average. Combined with low taxes and reasonable real estate costs, this helps businesses and households make more of their income, improving the business bottom line and the individual's quality of life.
Sports – Professional sports teams such as the Dallas Cowboys, Texas Rangers and Dallas Mavericks
Dallas Jobs – the Dallas job market is growing and is consistently ranked among the top cities for corporate relocation. Besides a lower cost of living, the city of Dallas is a center of industry, especially in information technology and health care.
Shopping – If shopping is your favorite pastime, you'll find that Dallas has fantastic malls, stand alone stores and retail outlets within the city and in all the major suburbs.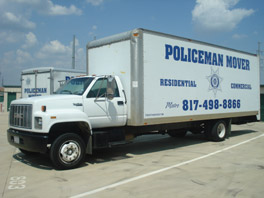 Whether you are moving across town or across the state, changing homes can be hectic, exciting and certainly stressful.

Rest assured you've come to the right place for assistance and information for your move in Dallas or to any city or town in Texas. Policemanmovers.com can take the stress out of your next important move.

817-498-8866
US DOT#2090836
Email: curtis@policemanmovers.com
Check out our moving company divisions in other North Texas cities
FortWorthResidentialMovers.com | KellerMovers.com
NorthTexasMovers.net | SouthlakeResidentialMovers.com
---

Website designed and maintained by Bogart Designs